Non-Surgical Hair Replacement for Men
Millions of men Nationwide are struggling with some form or hair loss. The most common cause is Androgenetic Alopecia, which is a hereditary form of male pattern baldness. Other types of hair loss are Trichotillomania, Alopecia Areata, Alopecia Totalis, or hair loss caused by medications or chemotherapy. Nearly all men suffering from bald patches fall into the hereditary male pattern baldness category.
At Custom Hair Tampa Bay our staff is technically trained in the latest state-of-the-art hair replacement systems and hair loss treatment options for men that are undetectable to others and only use the finest human hair. Our technicians understand the importance of age-appropriateness and will give you the exact hairstyle and hair color you desire.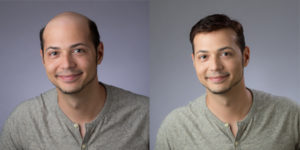 Androgenetic Alopecia or male pattern baldness is inevitable because it's passed down from generation to generation by either the maternal or the paternal side of the family. The word pattern is used because the hair loss typically shows up in pattern form. The beginning stages or initial thinning of hair often shows up in men in there thirties or forties. Sometimes a severely stressful occurrence can cause temporary hair loss in men. At Custom Hair Tampa Bay, Florida, we take into account the cause of our client's hair loss and customize the best hair replacement solution for their needs. We specialize in non-surgical hair replacement solutions with proven results. Our procedures are non-invasive and leave men of all ages with thicker, fuller, natural looking hair. No matter the cause of your hair loss there is a solution that is quick, easy, affordable and right for you.